We have informed you so far about our participation at Additive Days in Sofia. Thanks to the great hosts of the festival, we have managed to exhibit there our new sustainable jewellery collection under the name PAIN ENDORSEMENT. We collaborated with the designer Plamena Vladimirova who shared with us at our latest post 3D PRINTED JEWELLERY! IS THIS POSSIBLE? her inspiration and few secrets about her creative process and the technique macrame.
The collection consists of 8 pieces, all 3D – printed by B2N Ltd., made entirely of plastic from corn residues. Gergana Ustabashieva and her colleagues advised us throughout the whole process: from the designing to releasing the collection. Denitsa Petrova, one of the co-founders of Empty Your Wardrobe, was all together with Plamena exhibiting PAIN ENDORSEMENT, emphasizing the purpose of our participation: showing how combining technology and art we can successfully reduce the usage of important and scarce resources from our nature.
Now we are going to introduce you to the main actors involved in the creation of PAIN ENDORSEMENT. Have a nice time reading and share in a comment below what impressed you the most.
Gergana Ustabashieva ( B2N Ltd.)
Geri occupies the position of Business Developer and Marketing Manager at B2N Ltd. The main activity of the company is the distribution and sales of 3D technologies: 3D printers, scanners and specialized software, as well as 3D services.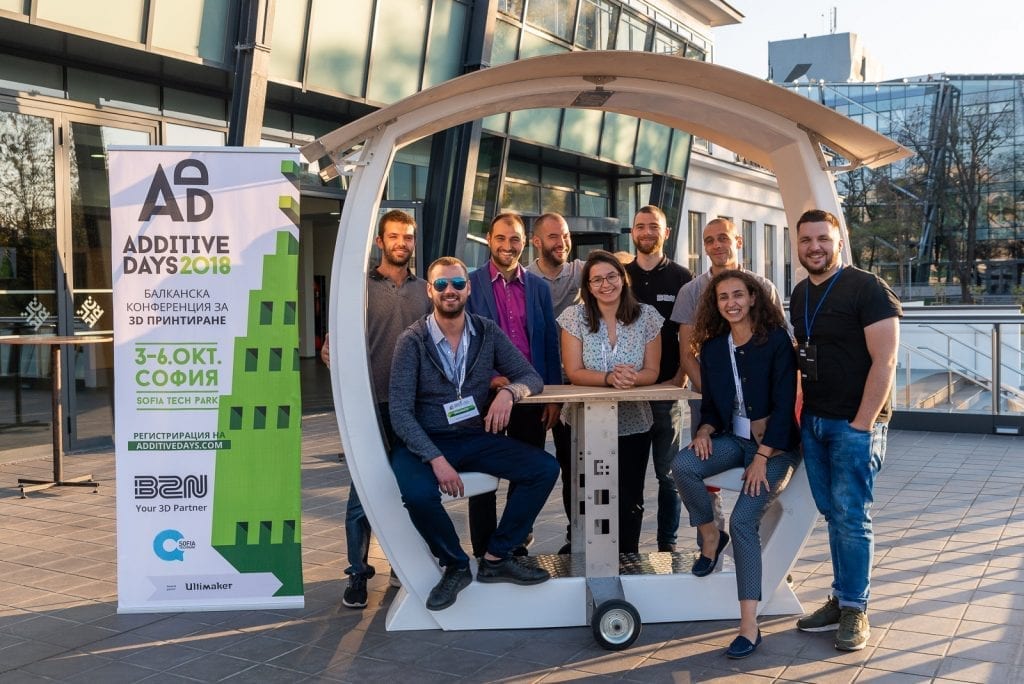 Geri, thank you very much for inviting us and providing us with the opportunity to participate in this festival. The whole experience was a huge challenge, but with the great help we received from you from the team of the B2N Ltd., we have managed in a collaboration with Plamena Vladimirova, to present our jewellery collection Pain Endorsement. What was the reason to invite so many different artists who are using or wish to try 3D-printing when designing their products?
We should also thank you for joining and showing to the visitors at the festival the lovely pieces of your collection. Moreover, I am so grateful that during AdditiveDays you have been an example of how we can apply technology in other areas, other industry such as fashion. Almost every industry and every professional could use the new technologies and innovation. That's also our goal – to showcase the benefits, the possible solutions that exist, which can save time to many designers.
The idea for the festival was born long before I joined the team. Over the time, it grew and shaped into an actual event. And in 2018, we all agree that now is the right moment to realize this dream.
What does it "cost" to organize such an event?
This event was the first of its kind. We were ambitious and willing to achieve high goals throughout the organization and performance. It costs a few endless nights, a lot of work during the weekends, and a lot of energy. However, in the end, we felt rewarded and recharged. On October the 6th, the last day of the event, we had forgotten all about the stumbling blocks and minor discomforts and we were delighted of the work done.
We noticed that the program was very substantial. Tell us a little bit more about the workshops.
During the festival, we had 7 workshops with 103 participants. Three of these workshops were for children where we tried to increase their imagination, introduce them to manufacturing and recycling techniques, and how little they need to change the world. The other 4 workshops were for professionals: jewellery, dental, for pedagogies and backup engineers.
All workshops got attention and received unimaginable interest. We were prized with positive feedbacks about the good initiative, as well as we received many requests for future workshops.
Who were the artists, the brands exhibited during the festival and which ones impressed you?
All the artists were unique. I personally enjoyed behaving like a child at all the exhibits, especially when I know that our team has helped many of them. I enjoyed the mix of engineering prototypes, fashion, virtual reality, jewellery, interior design and robots presented in a wonderful way.
What was the audience during the four days?
Our audience was so mixed. There was a presence of people working in the field of 3D technology or those who are using daily 3D technology. However, many people came because they were simply interested in seeing what level technology has been developed and what are the applications now. In the expo part, we were able to bring together business clients and we are already enjoying the first intentions for collaboration among different spheres.
Could artists who don´t have the necessary equipment and materials or knowledge come to you and realize their ideas with 3D printing?
We have different types of equipment, an extremely trained team with years of experience. Our work meets us with different people and businesses every day. With great enthusiasm, we embrace every project that enriches our knowledge, professionalism and makes us better.
What cannot people see and remain hidden in the process of transforming 2D images into 3D models?
There is no exact answer to this question. Many people come to us with a 3D model and they know exactly what they want to achieve. Others come out of focus and need advice, guidance, and help in refining their project, and then we turn their idea into a physical object.
Pain Endorsement is made of plastic from corn residues, lаyеrеd with the help of 3D-printing. Where the sustainable aspect is coming from?
The technology evolves and provides us with new ways of making different products. This development enables us to optimize various processes and steps in production. 3D printing does just that, as dimensions and applications are different in every industry. Fast prototyping for design testing is the broadest application for that moment. Considering the world of accessories, for example, 3D printing saves the process of making a master model so that the artist is more creative and develops an innovative model.
Was it interesting to you to observe how different techniques such as Macrame and 3D printing can compliment? Was the result expected?
I met Plami only once, but I learned a lot about her work. I expected that the end result would be good and definitely interesting, cool and catchy, but I did not expect her craftsmanship to be so wonderful. Not only attractive but also wearable, the pieces of the jewellery collection were a pleasure for the eye, for me as well as for all visitors at the exhibition.
What are the further plans in front of B2N Ltd?
We are ideating on various projects that we hope to announce at the beginning of the next year. The only thing that is planned for sure in the time is the second edition of AdditiveDays. The dates are the same – October 3-6, so keep these free. We promise that we have not yet shown everything that must be seen!
Plamena Vladimirova (The Balckout Label)
Plamena Vladimirova is the designer behind Blackout Label. She believes that each person has a personal style and should stand out, even imperceptibly sometimes. Blackout Label was born in 2014 by presenting the unconventional beauty. In search of "what no one has," and based on her experience as a stylist, Plamena become fascinated by "macrame" (a specific way to make knots). Her accessories under the brand Blackout Label can be categorized as an "industrial macrame": a combination of well-known macrame techniques and industrial materials.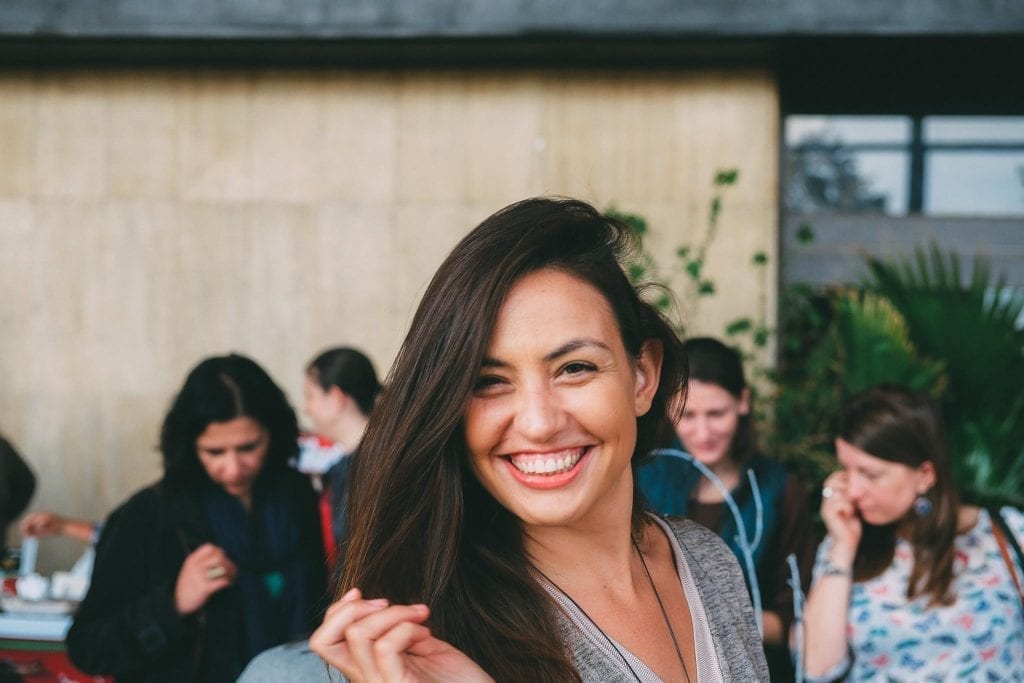 Plami, thank you for accepting this challenge and getting out from the comfort zone to create these accessories with the use of new technologies, in particular, something you have not been working with before – 3D printing. Please, tell us a bit more about the process.
Thanks again for your trust and this opportunity!
The creation of the collection came just at the time where I needed a cure. I experienced a very difficult personal moment, and that was my salvation. Pain Endorsement was my soul that was born through my hands. The idea emerged one morning as I was reading about the types of traumas and how they can be overcome. That's the moment where the stages were formed, and I just "saw" how the pieces will look like… Sketching was the most difficult, but naturally, when you do not work alone, there are always some difficulties in explaining to people what is there in your head. But I think we've done more than wonderful with the awesome B2N!
What was the biggest obstacle in this project?
Definitely the drawings and the technology I have never encountered so far. In my mind, I had to somehow imagine exactly how these models would look like after the 3D-printing, then how they would be combined with my techniques and materials and finally, how the collection would look like. It was a great challenge for me not to be able to "touch" and change from-to everything before the 3D printing has finished its job.
What do you think about the pros and cons of new technologies and their applications?
Pluses are endless, both for the artist and for the environment.
As a minus, perhaps, for me, creativity is to use your hands "from-to"… but that's more like my personal feeling!
Do you think 3D printing will replace human making in the future?
There is a high probability, but I still think that what has been created by men´s hand (especially in the field of art), brings more value, even looking"imperfectly"!
Please, share with us how you have managed to combine macrame as a technique with the 3D printed models.
As I said from the very beginning, the collection was my personal salvation, so it was extremely important for me to be able to showcase my statement. That's why I wanted the "shapes" made by the 3D printer to be only an accent, not the whole piece of jewellery. I wanted the "last word / look" in every piece to be mine, not from the machine … so I added later the knots and the industrial elements.
What are the takeaways from this project?
I learnt a lot! Speaking for myself, I believed I handle any trauma, however painful it may be if I made my soul to "speak". And from that always comes something "indestructible", real and beautiful. I have learnt about 3D printing, where I drow on a lot of inspiration.
Where can we see and buy PAIN ENDORSEMENT?
For the moment, you can see the pieces of the collection exclusively in my studio. And very soon, will be shown a special photo session with the whole collection.
Who is PAIN ENDORSEMENT for? 
Pain Endorsement is for anyone who wants to talk about the embarrassing pains! For the time when we allow ourselves to be oppressed, misunderstood, and unappreciated.
Pain Endorsement is about finding your way back to yourself … to recover our strength, to stand firm on both feet and to overcome the pains that "stumble" us. People need to understand that the traumas happening during our life path are the ones that make us what we are.
What should we expect from Blackout Label?
I've been working on 3 projects which hopefully will be finalized by the end of the year. Besides that, I will try to surprise our customers with a new clothing collection where I am using macrame techniques again. The pieces will be a real representation of mastery of art;)
Denitsa Petrova (Empty Your Wardrobe)
Denitsa is one of the driving forces in Empty Your Wardrobe. If we need to consider the comprehensive development and the diverse activities of our project, it is sometimes difficult to keep a track of every step. To some extent, this is good because at least we do not suffer from a lack of ideas and actions. 😉 The synchronization between us is certain because we are on the same "wave" and we follow a common goal.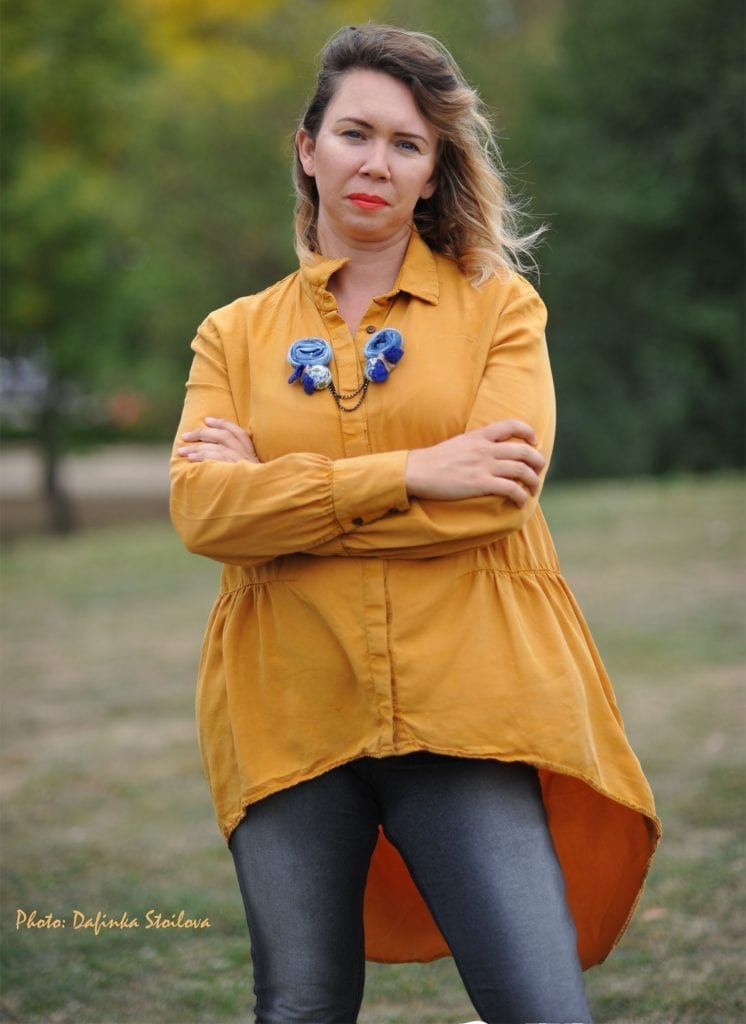 Deni, what impressed you during Additive Days in Sofia?
I was particularly impressed by the fact that 3D printers also can have applications in medicine. For example, before an implant is placed in the bone of a person, a 3D printing can be done and a sample of the implant can be tested, saving both time and any mistakes.
Undoubtedly, this is the future, because it has a practical application in all spheres, and the fact that things can be done with recyclable and at the same time durable materials is impressive.
Do you think that PAIN ENDORSEMENT had an adequate place during the festival?
Yes, of course, it was, especially when we experienced the great interest of the visitors. Once again, but in a different way, we showed how we can compliment fashion with innovation in a sustainable way, which is our main goal.
B2N Ltd. has used an organic material to 3D print the models. We know about a 100% recycled plastic that is also being used very often. Do you think using the new technology we can create a more sustainable life?
I was very surprised by how easy it is to manipulate the material, how stable it is and at the same time eco-friendly.
How do you think the clothes and accessories of the future will look like?
Clothes that we can easily modify without the need to shop so often. I imagine it to be able to remove the sleeves from a blouse so I can wear it like a T-shirt, to swap it with other blouses, stretch or shorten my skirt in a movement. And of course, the fabric to be very strong, organic and durable.
What we can expect from Empty Your Wardrobe?
Exciting moments and high goals that I strongly believe we will achieve.
Photo session AdditiveDays: Rosina Pencheva