Have you ever tried to do any of your daily routines blushing one of your senses? What it would be like to cook without feeling the smell – we will most likely want to make the food more beautiful. What would it be to clean without seeing – we will probably see the effects of an atomic bomb. What would it be to communicate face to face with someone without seeing or hearing it? Overlapping one of our senses develops the rest. And although this is called a physical defect, it's actually a talent to see the colours brighter.
So we put ourselves on an experiment – a Sunday dinner with the girls in an absolutely dark environment, as I describe the restaurant – "in a darker place I never have been even when I close my eyes at night." Despite the lack of a visual sense of the place, it all leaves you with the impression of a very pleasant atmosphere with nice, quiet jazz music, the aroma of incredibly delicious food, exquisite staff.
How it works – in the lobby of the restaurant, you are browsing the menu and choosing a 3 or 4-course menu option – vegetarian, based on cheese, chicken, seafood, veal or chef's surprise. You can choose the full option – salad, soup, main course and dessert or ladies option – 3 dishes without soup. The price is fixed as it does not include a drink. Once you make your order, a kind assistant comes to pick you up from the lobby and take you to the dining hall. You are warned to have your phone switched off (as in many places in Berlin) and take off your watch if there are even the slightest signs of lightning. You enter a dark antechamber, in an Indian line slowly you get to the table. Stacks you one at a time and helps you to find the table, the utensils, the person next to you. Serve your drinks and from there you are alone. There is nothing terrible if you act carefully and precisely. You don't overflow or break. You just have to be gentle;) It is interesting to try to understand what you eat. The power of the flavour of food increases your taste buds and you have the feeling that you eat divine food. The portions are intended to be eaten, but not to "stick like an animal". The waitress waits for you between each meal and every time asks you, are you ready for the next. Part of the dishes was goat cheese with blueberries, potato medallions, chicken on sticks… (we could not analyze it very much), nuggets with mango and others.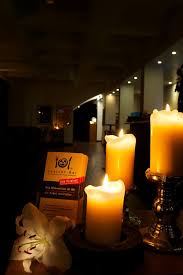 When you go out the first thing you do is look around if you do not look like a child after lunch in the kindergarten. But fortunately, you find that manners and labels have saved your white shirt. Then you look into your eyes and see two black balls. It is sure to be a big shock to the beautiful blue-eyed people: D Thank your companion and head back to the lobby where you can pay for the experience, tip the staff and get a short review of everything in your plate. So you never understand how the table looks after you or what each of us does when he knows nobody sees it.
But surprises do not end here. After all the time you thought the staff of the restaurant worked with night vision goggles, you understand that this is actually a delusion and all of them are blind … and you take down the hat of the entrepreneur who, besides having invented an amazing adventure, has opened up quite adequate workplaces for people that are marked by society as different. There is nothing different in them except for them the world is colourful!
Here you could find more information about the place and may make a reservation:}