Pure curiosity led us to them – two creative ladies filled with enthusiasm and a lot of hustle for a better world. Ana and Martina are classmates who upon their return to Bulgaria met by accident while strolling through the parks with their kids. Ana has degree in Art studies from the University of Vienna. She believes in all things beautiful and creates them with attention to detail. Her inspiration comes from knitting and tailoring.

Martina has a degree in Communications, English and Spanish Philology at the Rhine Friedrich-Wilhelm University of Bonn, Germany. She has also lived in South Africa and Spain. She loves the mountains and mostly to travel spontaneously without much organization.
The two of them created Modeteka – the first library for clothes in Bulgaria which opened in May 2016 in Sofia. We visited them in their cozy store to look at some of their selected ladies clothing line and to learn more about their project.
This is what they shared with us:
Who stands behind the name "MODETEKA"?
M: There are two classmates behind Modeteka: Martina and Ani. We met again after graduating from university in Bonn and Vienna, respectively. During our second time of becoming mothers we came up with the idea of creating the library for clothes in Bulgaria.
How did you come up with the brand?
M: We went through many different ideas while looking for a combination that sounded good in Bulgarian and consiseds of the words "fashion" ("moda" in Bulgarian) + "library" ("biblioteka" in Bulgarian). That's how we ended up with Modeteka.
Why "Wardrobe without an end"?
M: Part of our concept is renting out clothes. If you become a subscriber of Modeteka, you have the opportunity of wearing a new outfit every day without having to buy out all clothing shops or to look into ways of widening your wardrobe at home so you can fit all of your new additions. In a nutshell, you have an infinite wardrobe at your disposal that we maintain and store for you.
Buy, rent, sell – tell us more about your model.
M: We are introducing a new shopping model in Bulgaria which is already quite popular around the world, the so-called: crosstraiding. At Modeteka you can buy the clothes, as well as leave yours to be sold.
When a particular piece of clothing gets sold, we pay you 40% of the price. If within a two-month period the garment doesn't find a new owner, we give it back to you. This is a great way of keeping your wardrobe fresh but not overfilled. The most interesting option is the renting of clothes. For more details on the conditions of how we accept clothes can be found on our website in the section "Your clothes with us".

What prompted you to embrace this idea and to further develop it?
M: We founded Modeteka for anyone who loves fashion and enjoys experiencing it without owning it. We are all sick and tired of standing in front of the stuffed wardrobe with nothing to wear but repelled by the unnecessary consumption that we have witnessed in recent years. We welcome the new care for the future of our world. We share the idea that keeping up with fashion can go hand in hand with a life of keeping up with nature.
We found out that since 3 months ago MODETEKA is located at the corner of Angel Kanchev and Parchevich in Sofia. What is your opinion on the existence of off-line stores? Does the consumer still need them or is he/she increasingly oriented towards online shopping?
M: We both agree that it's best when you can try on a piece of clothing and feel it before buying it. However, we are also frequent online shoppers, and we also want our idea to reach more people in Bulgaria who can't visit us in person. Both must exist together and complement each other.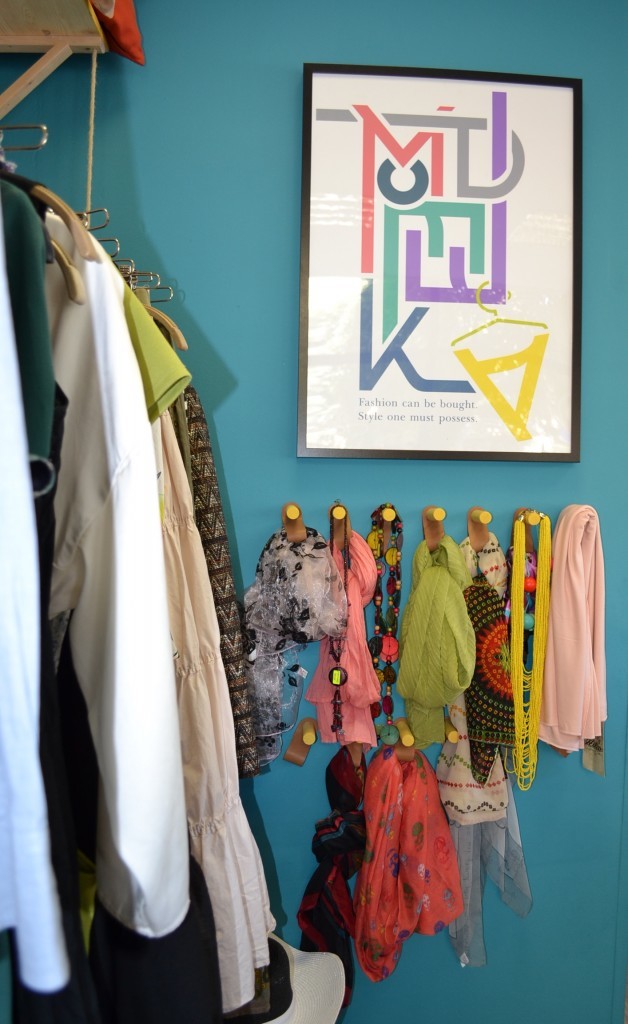 We've been informed that it's possible to have a SUBSCRIBTION at your store. What exactly does this service offer?
M: If someone wants to become a subscriber at Modeteka, they must come to our store. We will issue you a subscription card which would provide you with an access to our entire assortment. The subscription gives you the option of taking up to 3 items per month which you can replace with another 3 items as many times as you want within the current month. That way you will have an infinite wardrobe without getting tired of or overwhelmed by it.
Here you will find suitable outfits for special occasions – official dinners, business events, or weddings – as well as for your next party with your friends. We are making a great effort to maintain a collection of high quality and unique clothes. That is why we are picky and only select stylish and quality items.
These are our prices: for 1 month – 35 BGN. 3 months – 95 BGN. 6 months – 180 BGN. A year – 340 BGN.
Congratulations on your store's interior! Who took care of it?
M: We are glad you like it here! Special thanks are due to Kalina Dimova from INDUSTRIA who took care of the entire design of the brand (the store, website, and logo).
What can we expect from you in the following months? And in the more distant future as well?
M: Our time at the moment is entirely dedicated to the online store. Our desire is to find new owners to as many pieces of clothes as our clients bring to us. At the same time we want the main concept of Modeteka to reach more people and to enjoy many new subscribers because, according to us, the future is in sharing.
In the more distant future we are thinking of creating Modeteka for men.
Is such a venture successful in Bulgaria? How is it perceived?
For now we can say that the idea is perceived with plenty of enthusiasm, while it's mostly ladies that bring us clothes to be sold. The concept of renting clothes is a bit more difficult to grasp by the Bulgarian audience but we already have regular subscribers who are particularly special to us.
What motivates you to keep going and be so creative?
M: Mostly the satisfied customers. We rely on their cooperation and critique for us to be able to continue developing our initiative in the right direction.
What do you think of our initiative "Empty Your Wardrobe"?
М: We visited the last two events and we are fascinated with the idea itself , as well as with the exceptional organization and innovation. It is with great pleasure that we will participate in your next event in October where the guests will have the opportunity to pick and take home part of Modeteka's collection.
MODETEKA will participate with a whole rack of clothes which you can freely take with you at the "CLOTHESWAPPING" event.
Facebook: MODETEKA