Food:RE:Formers is a new organisation led by volunteers in Kolding which aims to challenge and inform the citizens of Kolding about food waste and broaden the knowledge about green responsibility. Its purpose is to encourage citizens to take action against food waste and over-consumption.
"A third of the food raised or prepared does not make it from farm or factory to fork. Producing uneaten food squanders a whole host of resources—seeds, water, energy, land, fertilizer, hours of labor, financial capital—and generates greenhouse gases at every stage—including methane when organic matter lands in the global rubbish bin. The food we waste is responsible for roughly 8 percent of global emissions." (Source: Drawdown)
Food:RE:Formers aims to create a social platform where citizens can meet, discuss and be inspired to change their behaviour in regards to a greener, and healthier lifestyle with the sustainability of our environment as the main focus. We focus on the Zero Waste philosophy, FN Sustainable Development Goals, Social Responsibility, Up-cycling and Circular Economy among others. We would like to address these issues by creating free open events where people are invited to enjoy a free meal together. The meals are prepared from surplus food donated by local stores, that otherwise would have ended in the dumpster.
Furthermore, we will invite speakers to share their knowledge about food waste, and /or other important issues within the scope of interest. These events will also promote and collaborate with local musicians and other local nonprofit organisations to create a non-formal social safe space where all is welcome to share, entertain and converse with our fellow citizens.

The events hosted would be inspired by different FN sustainable development goals and would thereby have different themes and discussion topics for each event.
RE:FOOD LAB believes that local activation and enlightenment is the first step towards making an actual global impact and planting an optimistic approach to sustainable living.
Social Activism in Kolding
When I met Iben a few months ago, we quickly got to the understanding that we have very similar values – a common desire to reduce the negative footprint that we apply on nature and discover implications, solutions, create small steps towards fighting textile and food waste.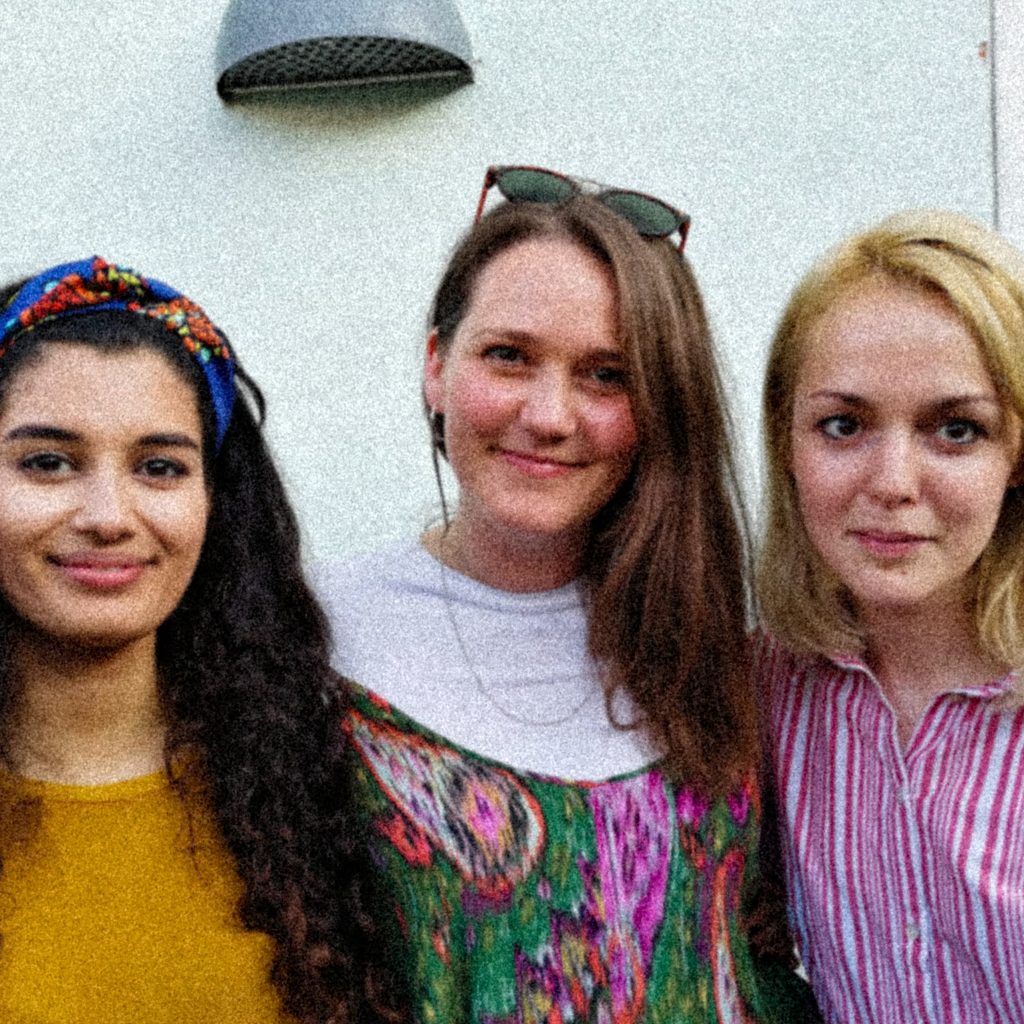 Iben was very eager to create awareness about food waste and create a social gathering where people can discuss and hopefully change their behaviour towards a more sustainable approach towards food waste. She told me that her first encounter with food waste was though dumpster diving in Copenhagen. Have you heard of it? Dumpster diving is saving the food that has been thrown away by large commercial, residential, industrial and construction containers to find items that have been discarded by their owners, but that may prove useful to others.

When dumpster diving, she discovered a massive amount of edible food – and non-food products – that was thrown away. Food you actually can bring home and eat. She told me that she doesn't see dumpster diving as a solution but rather can be seen as a consequence of the extreme consumer behaviour and the current regulations laws on food that the stores need to follow. A growing amount of grocery stores in Denmark are already trying to fight food waste by reducing the price on "close to expiry date" food – which is a positive change – but there is still a huge amount of food that goes to waste. The stores are not allowed to give away the expiring food, so they don't have another legal option than to put it in the dumpster. Furthermore, it is not only the food waste from the stores that are problematic. The general household in Denmark throws away tons of food which has a negative impact on the carbon footprint. You become more aware when reading this:
"Twenty-seven per cent of Copenhagen's footprint is associated with food. So changing the diet or reducing food waste, which Denmark is famous for, could really reduce environmental pressure." Source
Food waste is a serious issue, but not a lot of people are aware of the implications it has on our environment and the amount of food that is thrown away. She told me that she often experienced that people got surprised by her finding's and the negative impact the food waste have. This made her wonder "how she could address this problem?"

After organising an event with a food waste organisation in Copenhagen she discovered that by involving the citizens, introduce them to food made out of surplus goods, was a good way of approaching the issue. This she wanted to explore further when she recently moved to Kolding. She explains: "When moving to Kolding, I got very positive feedback on the idea – both from the municipality, Tobbers – where the first event is being held – but also from friends and the local community. Svetlana has been a huge help from the start and is now co-creating the event and organisation." She follows: "She knows everybody in Kolding and is always happy to support good ideas, which I'm super grateful for" .
I believe I met Iben, because we both have a close perception for the world and we want to be active in society. A month later after our first meeting, she organized a community meeting where each we invited volunteers sharing the same attitude to food like us. We set a date for organizing an experimental event to collect and cook food considered "waste".
---
Research and enlightenment
We decided to visit several stores nearby and talk to managers and/or their employees about food waste practices and collecting food waste. We were interested in:
What are their actions towards surplus food;
Are there any company policies or from the municipality, which they follow and apply;
Sustainable practices and shopping habits;
What should happen to reduce the amount of food thrown away;
Are the legal frameworks effective or just the opposite;
What we can change if we had this power;
What would you have answered?

---
Tobbers Madbar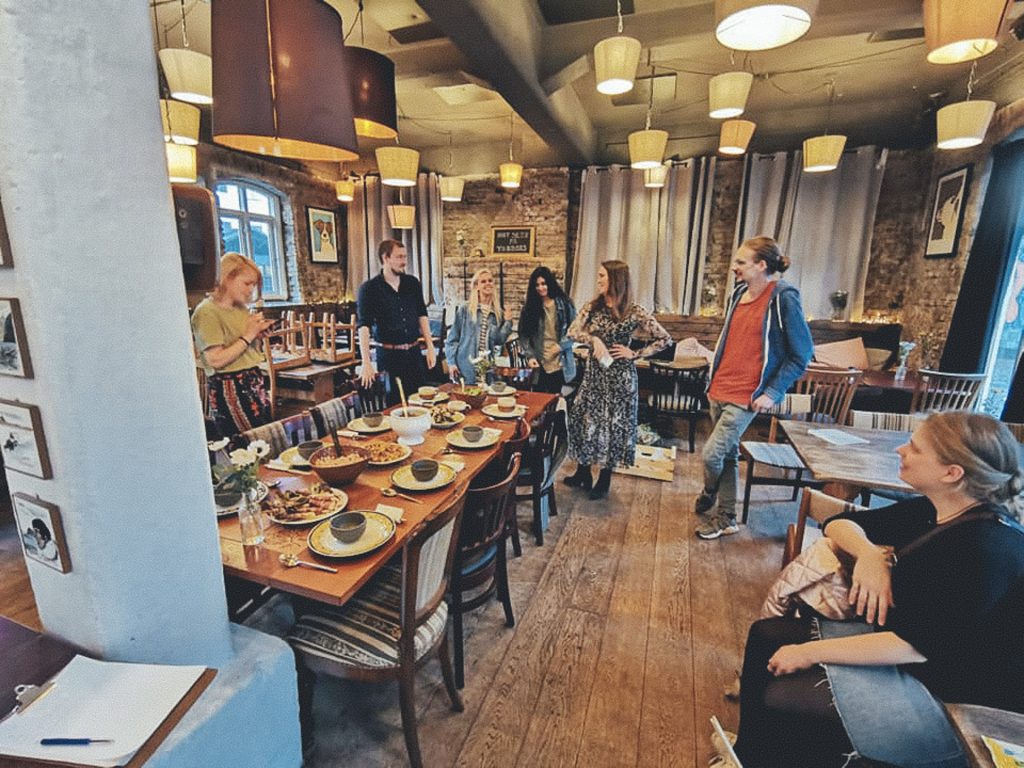 Our team consisted of ten volunteers who gathered at Tobbers Madbar, the place where we would later demonstrate our cooking skills. 😉 (Here we ideated about ​​creating a blog with "secondhand" recipes – thumbs up if you are up for it!).
The host of this experiment was Tobbers – a restaurant and café, popular among students but also locals. Its charm evokes from making you feel "at home" – you can grasp the smell of homemade cheesecake, good coffee, aroma candles and enjoy some days a guitar performance. A unique hyggeligt experience! Torben, who is the manager of the place, let us use the kitchen at the restaurant, after 18:00. After speaking with him, we were convinced he has no concerns for damaging the reputation of the place. He was only worried about the quality of food and the healthy aspect. Later, cooking and chatting, we learned that Torben supports other initiatives that follow the 17 Global Sustainable Development Goals. He dedicates a lot of his time to great causes that make sense to the society.
And here is a small part of what he shared:
Svetla: Was it difficult for you to say "yes" and be a host of such an initiative – cooking with food waste?

Torben: No, it was very easy because it is a very interesting subject to be involved in.

Svetla: What is your general impression of the outcome?

Torben: I was very pleased with the results, and liked the idea that we had to be creative with what we had.

Svetla: How do you see the practical implementation of the principles of the circular economy? (reduce, reuse, recycle)?

Torben: We were all working hard to implement the principles during the day.
Torben is partnering with Repair Café Kolding and together with Kolding Municipality, runs "Tobbers & Friends" – an initiative, where volunteers gather and repair / refurbish furniture that will later be placed for sale at Tobbers Ønskebrønd. The fund is distributed among young people in need. He himself copes with the waste in the two kitchens by collecting the organic trash separately. He plans very well the food portions and dishes that will be prepared and at the end of the day, almost no leftovers remain.

---
Field trip
We had foreseen an hour for field visits, which was enough to pass by two stores. We started our trip, examining the first store ́s containers which unfortunately were locked. Perhaps of the early hour – 17h. We headed to the next store, which is located very close to several schools in the city. There, we managed to "dive" into the garbage, as well as to talk to a shop assistant.
We had no success meeting the store manager at the first store. We were kindly informed that we had to call in advance and schedule a meeting. At least, we needed to try out if we will get lucky. The same happened at the second store, but there we decided to look for someone else – a random shop assistant, who occurred to be very polite. We asked about the policies at the store and her personal shopping style – whether she prepares a list or most likely shops spontaneously. We were touched upon the fact her colleagues felt extremely bad when they had to throw items away.
We also asked about specific items thrown away, appearing in a perfect condition at the container, and why they were there. To our great surprise, we found out: plastic bags, bottles and cans, packs of festive balloons, huge quantities of fresh avocados, flowers, wooden crates, and many more. We will only say that we didn't get very convenient answers…
Facts
Practice here is around 19-20 o'clock the stores to reduce the price of certain goods, either because of the expiry date, damaged packaging, or fresh food cooked during the day, etc. In Denmark, many households, as well as shopping stores, sort and recycle their waste – into a glass, cardboard/paper and plastic. There are clothing and footwear containers in each neighbourhood, and there are three types of trash bins in front of most homes/houses. The bulk of the waste is burned and used for heating – waste-to-energy (WtE) system, you can read a lot about its positives and negatives. There is also a special machine, "Flaskeautomat", in which you can deliver plastic /aluminium bottles and cans and get cash in return (pant deposit system).
---
Seeking for resources
Dumpster-diving
The team of enthusiasts consisted of ten food waste fighters, two of them dropped out of cooking, and others got involved. The adventure began with a tour around the first retail store, looking for the containers which are usually located at the back. Among us, Iben was the one with experience, so we trusted her to share tricks & tips in dumpster diving.
During the second visit, we had success – the trash bin was unlocked. We gathered all around the container, few of us put gloves, pulled the bags close to us and started digging for any useful items. From the whole group, Jasmin was the bravest, who, without any worries and hesitation, went inside the container. Here's what she said:
" The midst of it all, you truly get an entirely different perspective of waste when you are standing on a literal mountain of it!"
We decided to take with us, for cooking afterwards, the products you can see on the picture: avocado, cherry tomatoes, mint, lettuce, lemons, bananas and blueberries. We also took the balloons because they would be the best for the Repair Café Kolding's birthday party.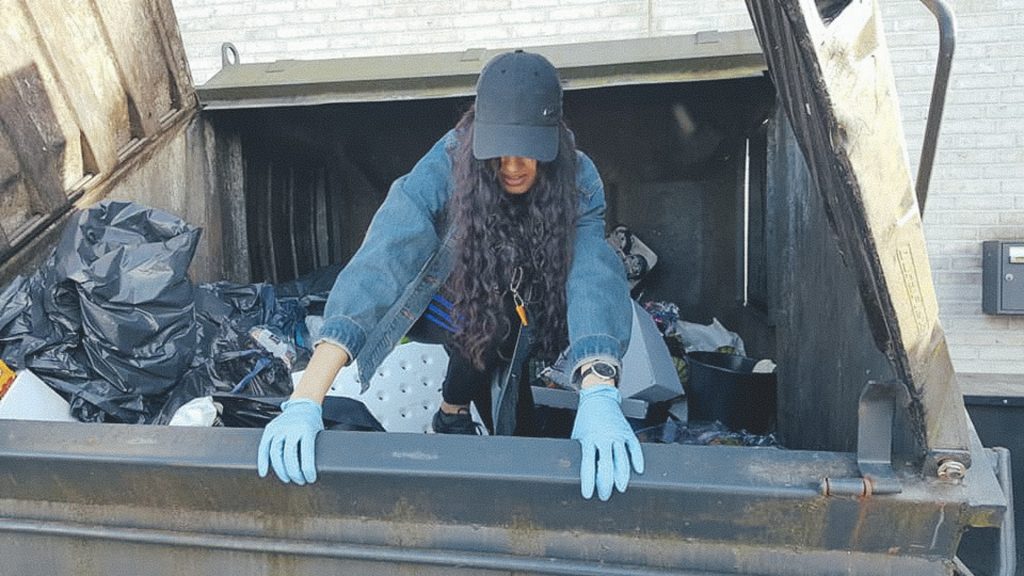 Tip
In most cases, the best time for dumpster diving, is around closing time, at 21 o'clock, when the bins are unlocked and the workers have finished the shift. Then the stores threw away food with an expiry date, with damaged packaging or other remarks such as different shape than the usual one, colour, size, etc. But you should know that any attempts to get into containers when they are locked are considered as a violation. The most common dumpster divers are considered the students leaving at the campus.
Hygiene is also important so remember always to clean and check if the food has gone bad before consuming it. And remember the unwritten dumpster diver rule: "always clean up after yourself – by not leaving trash outside the containers – and be kind to other dumpster divers by sharing and not be greedy".
---
People's attention
While dumpster diving we experienced that people on the street were a curiosity – we grabbed their attention by our unusual behaviour. A mother with two children approached us because the children were interested in what we are doing. Since our group was a mix of Danish and English, and the children spoke perfect English, we told them in details about our research. We received understanding and support. Both of the children are studying at a private international school in Billund. Quite often they and the other kids there are involved in activities connected with recycling and reuse.
We invited the family to join the group, which they warmly agreed to do. On our way back they told me about their sustainable habits. They sort the waste at home and spend a lot of time playing games at school created by their teachers. Their teachers have created games which introduce the pupils to the principles of the circular economy: reuse – reduce – recycle. Recently, they have built a huge installation of various plastics parts.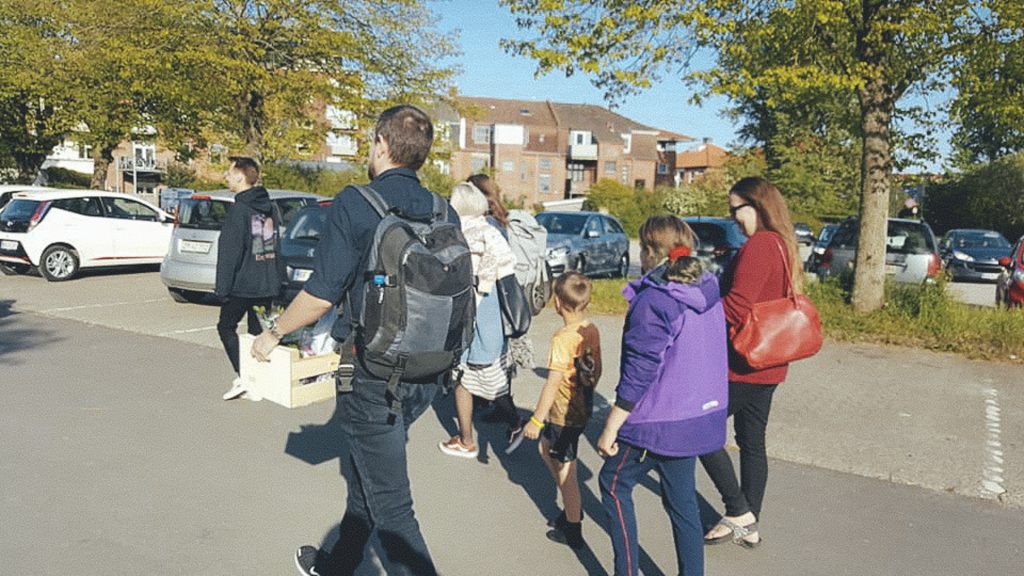 To be continued…