Empty Your Wardrobe is happy to be in collaboration with Food:RE:Formers – a new organisation led by volunteers in Kolding. The organisation aims to challenge and inform the citizens of Kolding about food waste and broaden the knowledge about green responsibility and encourage the citizens to take action against food waste and over-consumption.
---
The community is growing fast and there are already 62 members. One of them is Diana Sandu – a beautiful Romania girl, currently studying Web Communication Design at SDU in Kolding. The story below represents her perspective, her experience as a volunteer during a Dumpster Dinner, facilitated by Food:RE:Formers. During this event Food:RE:Formers were serving surplus created by the volunteers and other stakeholders. During the social dinner, Food:RE:Formers are facilitating a discussion about social activism, food waste and sustainable living, where we create and use tangible conversation starters, that is inspired from design students cúriculum. Furthermore, there is an inspiring presentation. At the first event, Danille Wildes, a professor at SDU Kolding, held a presentation about her research within food and sustainability. At the second, a student helper from Kolding Renovation, Arvin Aliari presented the municipalities new strategy about waste sorting system and future plans.
---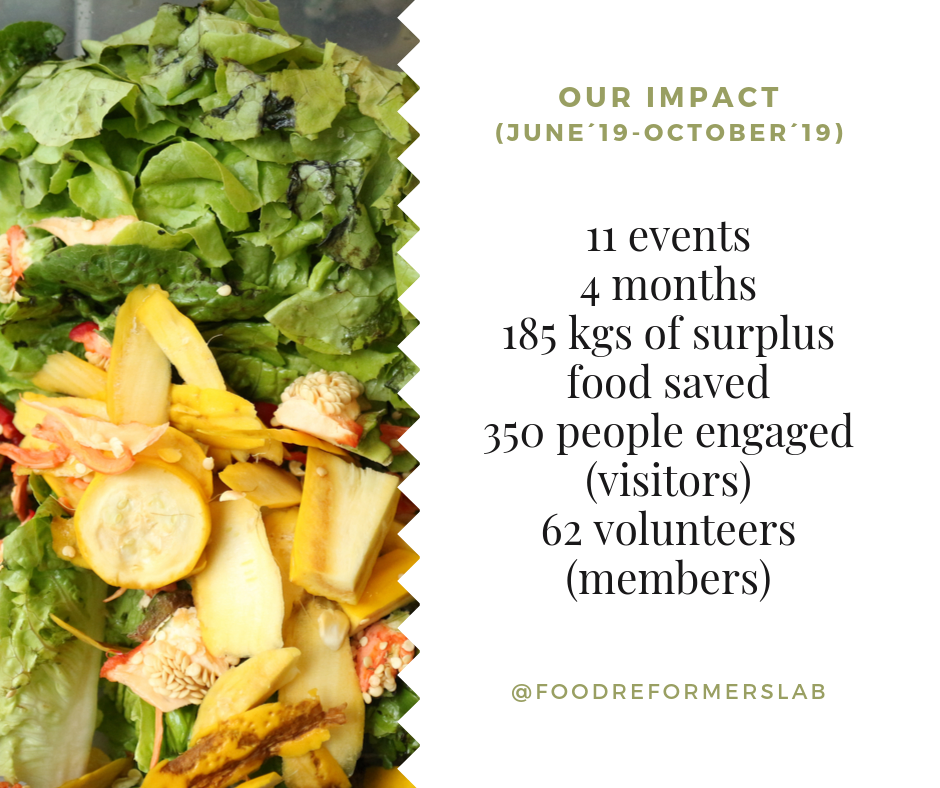 ---
I've joined Food Reformers after 2 weeks from my arrival in Denmark because I was looking for an activity in which I can invest my time, my creativity and my enthusiasm. I love to spend time in the kitchen, I love to cook, to try new things and to show my love for others by preparing them something delicious. But as we are now in a place in time when we need to look carefully at our environmental footprint I became more concerned about food wasting. So I understood that preventing food wasting is not just about not throwing away those leftovers but about creativity, about curiosity and about being aware how much one's actions can influence and change in a good way big environmental problems.
---

---
When we talk about environment we think about something vast and huge that's why we are not feeling empowered to start the change. But actually the environment is not only this big planet called Earth, but the environment is also your room, your garden, your workplace or university, your hometown, your country. So changing a habit that concerns your home (start recycling) is not something you will do at a small scale is something meaningful and effective because you'll improve your environment and inspire others to do so.
---
Facts about food waste
In September 2015, the United Nations adopted the UN Sustainable Development Goals (SDG), among them the UN Sustainable Development Goal 12.3: By 2030, halve per capita global food waste at the retail and consumer levels and reduce food losses along production and supply chains, including post-harvest losses
Around 700,000 tonnes of food are wasted annually in Denmark in the entire value chain from farm to fork.
The food currently wasted in Europe could feed 200 million people.
By 2050, global food demand is expected to increase by 60 percent.
The food we waste is responsible for roughly 8 percent of global emissions.
Twenty-seven per cent of Copenhagen's footprint is associated with food.
Average Danish household has 5th highest carbon footprint in Europe-Measured in kilograms CO2 equivalents per capita, per year. The average for the whole of Denmark is 14.5 tons CO2, which is higher than the EU average at 11,5 tons CO2.
---
---
Speaking about meaningful actions, after a week since I became a Food Reformers´ volunteer I had the most inspiring and revealing moment. What do I mean? I will start with the beginning.
One week before our event "Dumpster dinner", we collected surplus food, we gathered, sort it out, assigned some tasks then cooked and deposited our vegetables safely in the fridge or freezer. One day before the event we collected even more surplus food and planned the menu. Then on the event day, on the 23rd of September, we met at Tobbers Madbar and start preparing for our social dinner. I and Jonah helped Torben preparing the dishes, so we worked in the backstage :D. I entered the kitchen around 16.30 and the magic began.
---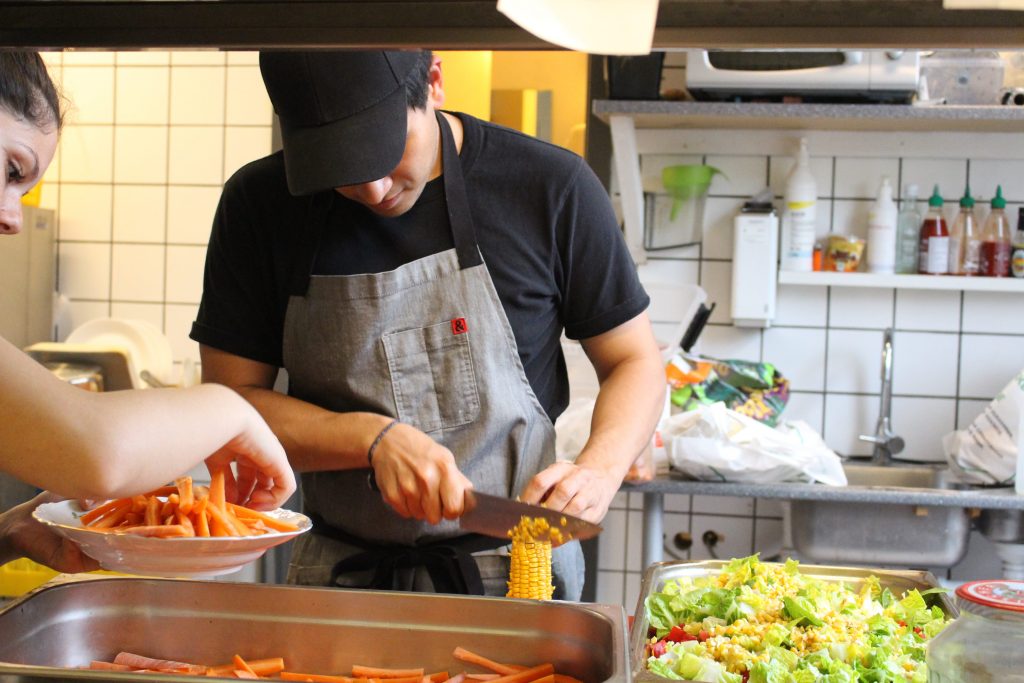 ---
---
All the food that should have been thrown away looked like it was freshly picked from the garden. We split the tasks and start chopping the carrots, onions, potatoes etc. It was just like a piano concert that starts being performed softly and then slowly speeds up to the apogee. We prepared the soups and the appetizer and then without realizing we reached the point of cooking the main dishes and dessert. Music in the background smiles at the horizon and a lot of passion in the food, this was the backstage painting.
---
---
But the moment I was talking about early happened when, after 3 hours of being in the backstage I stepped out on the main stage and I was speechless. The room was filled with happy people, people of different ages and from all over the world sharing the same feeling and enjoying the food. I stayed there for 5 or 10 minutes smiling and just admiring what happened around me as I was looking at a beautiful landscape. I couldn't believe that me, a 22 years old student I contributed to those people smiles and together with my colleagues I turned surplus food in what made those people come together and have a great time.
---
---
So at that moment, the backstage painting has combined with people's enthusiasm to try every dish, with their happiness and with their plates that looked like pieces of art and I felt happy, truly happy.
---
---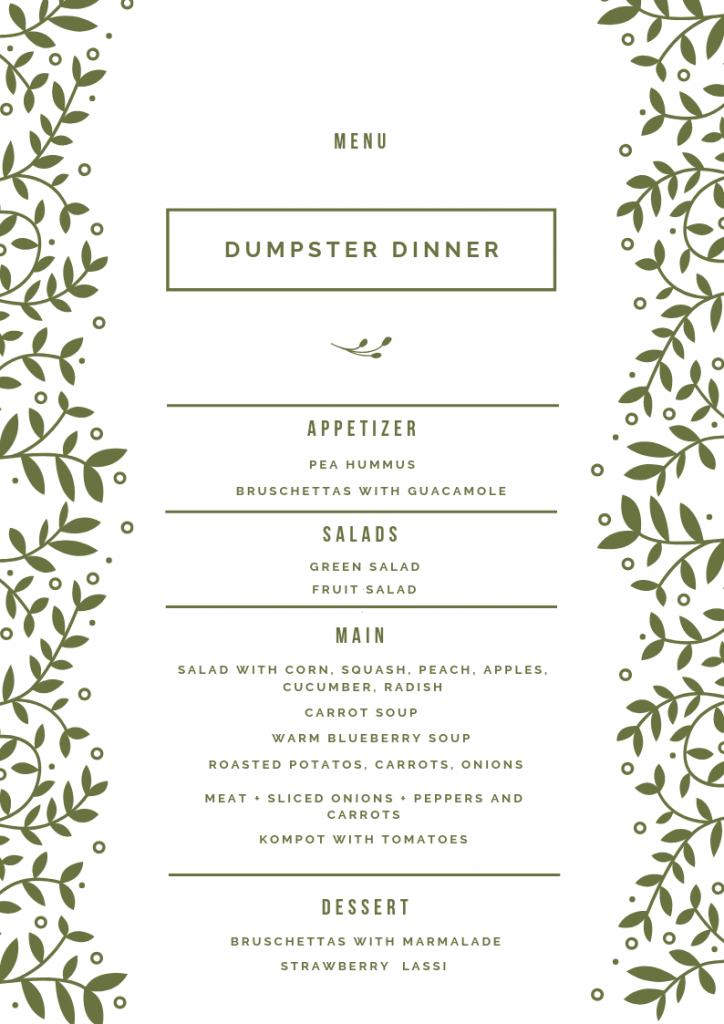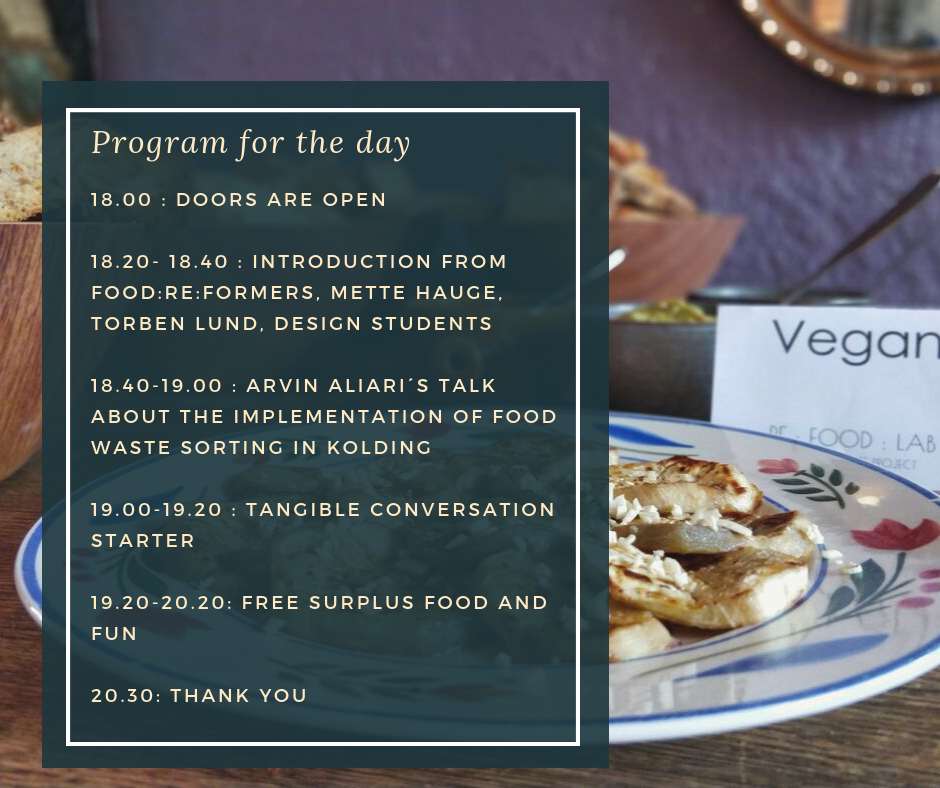 ---
About Diana:
I am coming from Romania and I am currently studying Web Communication Design at SDU in Kolding. My interest in sustainability sparked during one Erasmus+ youth exchange in Poland where we debated the Food wasting topic. Since then I became more aware of what is happening in the world and how different countries have distinct approaches to these environmental problems. Right now I am trying to have a sustainable lifestyle and inspire this sustainable living here in Kolding by volunteering at Food Reformers Lab.
Photos: by Aída Montes Rodríguez